If your local newspaper ran a Taylor Swift soundalike contest, would you enter?
Maybe not, but watching other users' entries might be tough to resist.
A group trip to "1989" was one of the ideas to drop from a conversation with editors at the Association for Alternative Newsmedia's conference in San Francisco on Jan. 23 — a gathering that discussed the challenges of managing sometimes disparate audiences, growing communities around popular personalities, and ensuring that users of all social and educational backgrounds had an equal chance to participate.
As part of our conversation, the editors were asked how they would involve readers in coverage of three scenarios:
The Super Bowl is coming to your city.

A much-beloved musician is holding a free concert in your city, and many thousands will attend.

A major snowstorm is hitting your city.
(Two of those story ideas were ripped from the weekend's headlines.)
Here's some of what editors dreamed up: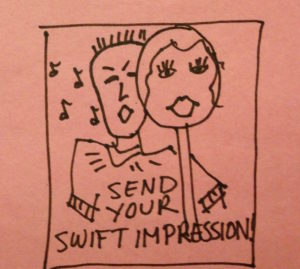 The Taylor Swift idea was a response to scenario 2 that came from a group including Cathy Resmer of Seven Days in Vermont, as well as some colleagues who preferred to remain anonymous.
Their plan: if Ms. Swift hit their town, they'd ask users to submit their best impressions of the pop star through a compelling link on their pages. Editors would select a top set of submissions, and users would vote to pick the best of the batch.
A Snowpocalypse 2016 Info Hub was the brainchild of a group that included Anthony Hecht of Index Newspapers, Wm. Steven Humphrey of the Portland Mercury, and others. They would ask users to submit tips, stories, photos, and videos into a Slack-style stream curated by their editors.
The result: a constantly evolving live stream of community-spawned coverage, with editors ensuring the best contributions rose to the top.
The other groups chose the Super Bowl scenario, and each put its own spin on community coverage of the big game.
A group that included Andrea Suozzo of Seven Days and a set of silent partners came up with a set of activities: a Super Bowl scavenger hunt around town; a digital bad-face-painting contest, open to all community members; and "photo-shaming" of out-of-towners who'd trucked in for the game.
Users would be able to upvote and downvote to rate and curate user contributions.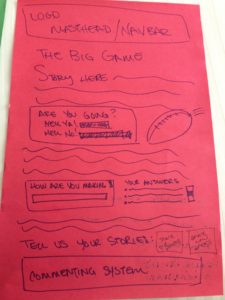 The Super Bowl can make travel in its host city a challenge, so a group that included staff from Iowa City's Little Village, San Diego's City Beat, and northeast Florida's Folio Weekly planned to partner with the traffic app Waze to offer live advice for getting around town. The big game can also be a boon for enterprising locals; this group would ask how much temporary entrepreneurs made and how much the cost of everyday services spiked.

Tracking local moneymakers was also part of the strategy devised by Lizzy Acker of Willamette Week, John Dunlevy of the Chicago Reader, and Brianna Kirkland of the Santa Fe Reporter — a presentation that would also include users' stories from in and around the big game and whether their regular users were taking part in Super Bowl festivities or opting out of them.
Thanks to everyone from AAN who attended and participated.
How would you handle any of our three scenarios? Let us know in our community, and we might feature your ideas in a future blog post.
Click here to discuss this piece with the Coral Project Community.