As the digital revolution unfolded, many assumed the internet would open a wide frontier where barriers to the participation of women would fall away and more robust expressions of democracy would take hold.
In the news industry, that was far from the truth.
Research about New York Times comments, as well as 15 of the highest traffic news sites worldwide shows that men outnumber women in news comments by 3:1 to 4:1. Data about race and other metrics of diversity and inclusion are elusive, however.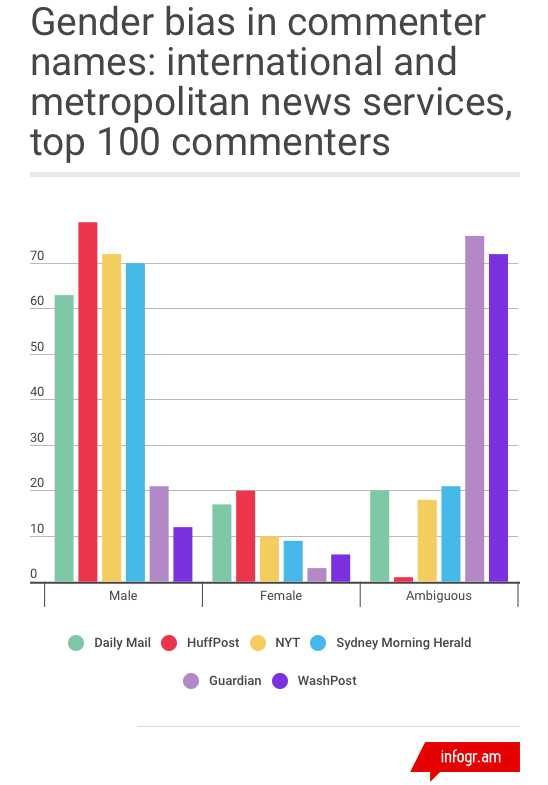 (Source: Fiona Martin, "Getting my two cents worth in: Access, interaction, participation and social inclusion in online news commenting," International Symposium on Online Journalism, April 2015.)
The absence of women's voices is a problem for democracy, and for news organizations' bottom lines.
First, news organizations are failing to fulfill their democratic mission as civic institutions.
Nearly a century after women got the right to vote in the United States, women vote in a greater proportion than men, and have been doing so for 35 years. Raising up women's voices is essential to fulfilling news sites' civic mission.
Second, women are the world's most valuable consumers and make the vast majority of retail decisions. While news sites were creating open forums, figuring out how and whether to moderate comments, and agonizing about trolls, editors have largely overlooked the fact that their most valuable consumers just weren't engaging.
Solving the gender gap in comments will improve metrics for their most lucrative consumers.
The enormous lag in women's voices in news comments is no surprise to anyone who has observed women's representation in other parts of public life. Women remain vastly underrepresented in Congress, in front-page bylines, op-ed pages, on Sunday talk shows. And as Facebook's Sheryl Sandberg argues in her book Lean In, women volunteer their voices less in the workplace, too. Girls participate less in classroom discussions when they see themselves as less efficacious, research shows, especially in science, technology, engineering and math
Clearly, women's engagement in news comments is one mirror of a broader cultural trend of women being under engaged and under represented. It's not merely a stand-alone problem at news sites.
As an audience engagement strategist with the Coral Project, my objective in the coming year is to drive innovation through the use of gender-inclusive design principles and protocols. In the end, I aim to have a model for user-based strategies that will optimize women's engagement at news organizations, even as growing numbers of news organizations are moving away from hosting comments. As the Coral Project works to resolve problems have developed with the growth of online communities, gender-inclusive strategies can help broaden the reality of whose voices are heard online.
Marie Tessier moderates comments on the Opinion Pages of the New York Times and contributes to the Taking Note Blog. She is consulting with the Coral Project on the engagement of women as a Reynolds Journalism Fellow. Kristin Rohlwing, Elizabeth J. Davidson, Humera Lodhi and Amy E. Schmidt contributed research assistance through the Reynolds Journalism Institute at the University of Missouri-Columbia.
Photo courtesy of  WOCinTechChat. Creative Commons License: CC-BY 2.0
This is an opinion piece by a guest author, and does not  necessarily represent the views of The Coral Project. If you're interested in writing a guest post for us, please get in touch.
Click here to discuss this piece within The Coral Project Community.